Double color glass tubular level gauge
Glass Tubular Level Gauge
UGS-A (GZS-A) Bi-color Quartz Glass Tube Liquid Level Gauge
Measure ranges: 300~3200mm

Working temperature: -20~600ºC

Nominal pressure: PN0~10MPa

Quartz tube test pressure: ≤13MPa

Meter material: carbon steel, SS304

Green for liquid, red for air (don't need electric power supply for the double color display)

Back light is optional: a, light Emitting Diode: electric power supply: 24VDC. b, fluorescent light tube: power supply: 220VAC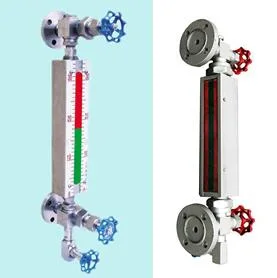 GZS-C series Economic Glass tube Water Level Gauge
1) Measure ranges: 300~5000mm
2) Working temperature: ≤100ºC
3) Nominal pressure: PN0~10Bar
4) Meter material: carbon steel or SS304, SS316
5) flange standard: DIN

,

ANSI

,

JIS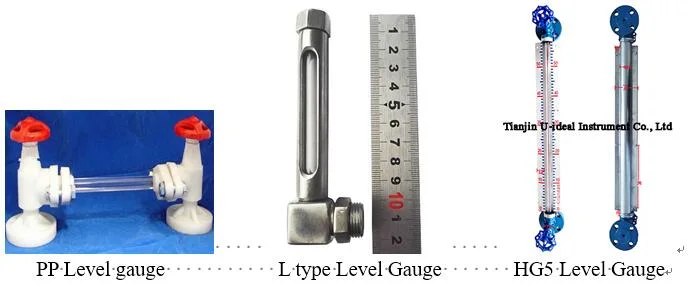 Xukang meter Manufacturing Co., Ltd produce L type level gauge, PP plastic type, simple glass tube level gauge.
B49H-10G High quality Quartz Glass Tube Water Level Indicator (Double-Color)
Bi-color water gauge consists of upper valve, lower valve, and gauge body, blow off valve, balancing tube and lamp house. The upper valve and lower valve can be fully opened and closed by Hand. Inside the valve body. There is a safety steel ball and safety valve seat. When the quartz glass rube is broken suddenly, the steel ball will remove to the safety valve seat in high speed pushed by high pressure steam to shut off the channel of the gauge automatically until the upper and lower valves is closed by hand. The ball will be reset by the pressure from the balancing tube and by its gravity. Therefore, false water level can be avoided. The gauge is provided with special safeguard, so it is safe and reliable, the gauge body itself is also a very good protection shade.
1) Measure ranges: 300~2000mm
2) Working temperature: -20~450
ºC
, 600
º
C
3) Nominal pressure: PN0~10MPa
4) Meter material: Carbon steel, SS304, SS316
5) Steam Jacket connecting tube: flange DN15 or flange 1/2×1.5
6) Two lamp bulbs assemble to the level gauge. Can add any voltage and any power bulbs.
7) Bi-color display: red for air, green for water level display. (Very clear display)
8) Lighting: Tube 36VDC 200W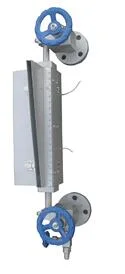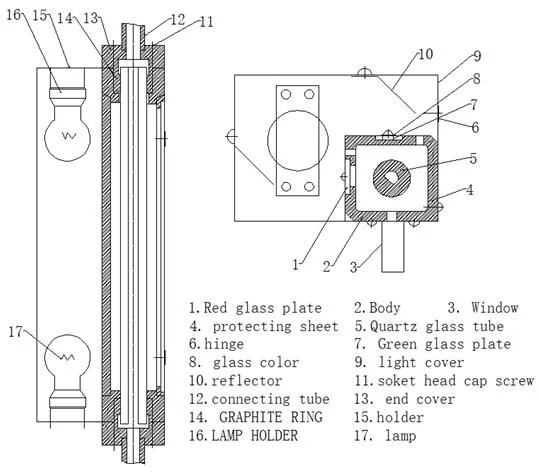 Easy to install, no extra piping required in most applications
Magnetic level gauge Visual level indication up to 30m, sections made suit for delivery. Magnetostrictive level indicator can reach 30m measure range with cable insertion.
Ideal for high-temperature, high-pressure and corrosive applications.
Magnetostrictive and radar transmitter options for non-invasive and/or redundant level control.
Available with HART, 4~20mA, and level switches.
Float Cage Material
SS304, SS316, PTFE, PP, PVC, PVDF
Max. Centre to Centre Distance
6000 mm, greater lengths on request
Connecting Flanges
According to DIN or ANSI B16.5
Temperature of Liquid
450ºC (Max.) for SS, 80ºC (Max.) for PVDF
60ºC (Max.) for PVC, 50ºC (Max.) for PP
Specific Gravity
Min. 0.45
Scale
Graduated in cm, Aluminium or SS304
Measuring Accuracy
+/- 5 mm
U-ideal mounting styles
Typical pictures of magnetic level indicators
Model Selection Table
Basic selection of magnetic level indicator please refer to the following steps:
UHC-
C
Side mounted;
D
Top mounted
O
Other
Signal
Y
Standard transmitter 4~20mA current signal (Resolution: 20mm/10mm/5mm);
Y3
Magneticostrictive transmitter 4~20mA
H
Hart;
A
Switch and number;
L
transmitter with LCD
No signal output
Indicator type
O
Ordinary pannel
S
Sealed bargraph
L
Red/Green flaps with LED lamp
Structure
S
Steam tracing
E
Electric heating
F
Defrost
Valve
D
Drain valve or drain plug
DV
Drain valve and Vent valve or plug
N
No valve
Working temperature
A
Ambient temperature (0~40ºC)
M
-20~200ºC
H
High temperature (<400ºC)
L
If easy frozen
Material
SS304
0Cr18Ni9
SS316L
022Cr17Ni12Mo2
SS321
0Cr18Ni10Ti
PP
PP (Polypropylene),PVC,PVDF
PTFE
stainless steel lined with PTFE
Explosion-proof
S
Safety environment
E
Explostion-proof ExdII BT4
I
intrinsic safety ExibII CT4
Measure range
Unit: mm
Fluid density
g/cm3
working pressure
Unit: MPa
Flange size, rate and standard
ANSI
DIN
JIS
Example: UHC-C-YA-O-D-M-SS304-S-500-0.8-1-DIN DN25 PN16
Remark: Manufactured customized is available for this product.
Can be made to Sections if gauge is longer than 3m to make suitable for delivery.
magnetic level gauge
UHC - V side-top mounted high viscous liquid Float level gauge
UHC - V side-top mounted high viscous liquid type Float level gauge is suitable for the petrochemical tank liquid level measurement system, and especially suitable for heavy oil, tar, crude oil, resin of high viscosity medium liquid level detection.
Features:
C-C: 500 ~ 10000 mm, long gauge can be section made.
Process connection: size DN6 ~ DN200, flange standards (GB, JB/T, HGJ, ANSI, DIN, etc).
Lead tube material: 304SS; 316SS; 316L
Float material: 304SS; 316L, Titanium
Working pressure: 0 ~ 1.6 MPa
Working temperature: - 20 ~ 200 ºC
Accuracy: + / - 10 mm
Medium density: 0.65 ~ 2.0 g/cm3
Medium viscosity: 1.5 Pa s. or less
Model Selection:
UHC-V
Top-side mounted high viscosity fluid type float level gauge
L
drain valve
valve
B
SS304 or stainless steel 1Cr18Ni9Ti
wet material
L
316SS or 316L
150
DN150 or 6"
Connection
200
DN200 or 8"
A
Flange nominal pressure 1.0MPa
PN
B
Flange nominal pressure 1.6MPa
1
-20~80ºC
Working temperature
2
-20~130ºC
3
-20~200ºC
B
cam magnetic drive switch
switches
C
reed switch
number of switches
R1
standard transmitter 4~20mA
transmitter
R2
magnetostrictive transmitter 4~20mA
R3
magnetostrictive transmitter 4~20mA, with Hart
O
standard
ex-proof
D
flame-proof ExdIIBT4
E
intrinsic safety ExibIICT4
height of install
width of install
measure range
fluid density
working pressure
Top mounted vaporizing fluid float level gauge
UHC -T Top mounted vaporizing fluid special using magnetic float level gauge is suitable for liquid measurement which is easy vaporization in pressure vessels, especially for buried tank of liquid level measurement such as liquefied petroleum gas, methane. This model level gauge adopts of a set of three pure titanium floats and unique guide rail structure, with stable and reliable product performance, strong practicability, now is widely used in LPG stations.
Features:
Measuring range: 300 ~ 3000 mm.
The process connection: flange size is 6 ~ DN200, flange standards (GB, JB/T, HGJ, ANSI, DIN, etc) please declare when ordering.
Lead tube material: stainless steel 1Cr18Ni9Ti; 304SS; 316SS; 316L
Float material: Titanium
Working pressure: -0.1 ~ 4 MPa
Working temperature: - 80 ~ 80 ºC
Accuracy: + / - 10 mm
Medium density: 0.4 ~1.2 g/cm3
Medium viscosity: 0.4 Pa s.
Model Selection:
UHC-T
Top mounted vaporizing fluid special using float level gauge
B
SS304 or stainless steel 1Cr18Ni9Ti
wet material
L
316SS or 316L
150
DN150 or 6"
process connection
200
DN200 or 8"
A
Flange nominal pressure 1.0MPa
nominal pressure
B
Flange nominal pressure 1.6MPa
1
-20~80ºC
Working temperature
5
-80~80ºC
B
cam magnetic drive switch
switches
C
reed switch
number of switches
R1
standard transmitter 4~20mA
transmitter
R2
magnetostrictive transmitter 4~20mA
R3
magnetostrictive transmitter 4~20mA, with Hart
O
standard
ex-proof
D
flame-proof ExdIIBT4
E
intrinsic safety ExibIICT4
J3
Vacuum jacketed
height of install
measure range
fluid density
working pressure