Glass Tubular Level Gauge
GZS-A Bi-color quartz glass tube liquid level gauge
Measure ranges: 300~3200mm

Working temperature: -20~450ºC

Nominal pressure: PN0~

10

MPa

Quartz tube test pressure: ≤13MPa

Meter material: carbon steel or SS304

Green for liquid, red for air

Back light is optional: a, light Emitting Diode: electric power supply: 24VDC. b, fluorescent light tube: power supply: 220VAC

B43H-64 Quartz tubular glass water level indicator
This B43H-64 Tube type Water Gauge are composed by top valve (steam valve) bottom valve (water valve), gage body, Drain valve, balance pipe etc.
Top valve and bottom valve is a quickly composed valve, not only manually open quickly and all closing, as there are insurance valve and a insurance bead in valve inside, when the quartz tube suddenly blow up, insurance steel bead will quickly apical under the high pressure pop, then close the up and down passageway automatically, until Manual closing fast valve, Insurance bead will get pressure balance by balance pipe, has obtained by insurance bead self-respect, so will not appear False water and other no good phenomena.
1. Operating pressure: 1.6-10MPa
3. Length: 440-670mm
4
.
medium temperature:

≤

450
ºC
5. Material: Q235-A carbon steel

SF303 quartz glass tube bi-color water level indicator
Bicolour water gauge consists of upper valve, lower valve, and gauge body, blow off valve, balancing tube and lamp house. The upper valve and lower valve can be fully opened and closed by Hand. Inside the valve body. There is a safety steel ball and safety valve seat. When the quartz glass rube is broken suddenly, the steel ball will remove to the safety valve seat in high speed pushed by high pressure steam to shut off the channel of the gauge automatically until the upper and lower valves is closed by hand. The ball will be reset by the pres-sure from the balancing tube and by its gravity. Therefore, false water level can be avoided. The gauge is provided with special safeguard, so it is safe and reliable, the gauge body itself is also a very good protection shade.
SF303,
304,
1030A
water indicator: Red for Air, Green for liquid
Model

PN

Temp.

C-C

visible

MPa

ºC

mm

mm

F1030A

≤6.4

450

440

200

F1030

F303

600

300

SF303

F304

≤10.0

450

440

200

SF304

600

300

F401

≤

4.0

260

350

140

SF401

440

200

F402

≤

2.5

260

350

140

SF402

440

200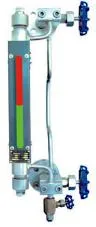 GZS-C Ordinary Glass tube liquid level gauge
1) Measure ranges: 300~6000mm
2) Working temperature: ≤100ºC
3) Nominal pressure: PN0~10Bar
4) Meter material: carbon steel or SS304, SS316
5) flange standard: DIN

,

ANSI

,

JIS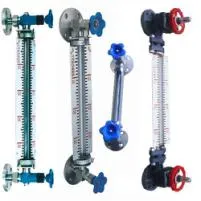 GZS-D Electric Heating bi-color Glass Tubular Level Gauges
1

)

flange to flange: 300~2200mm
2) Working temperature: ≤200ºC
3) Nominal pressure: PN0~6.3MPa
4) Meter material: high quality carbon steel or 1Cr18Ni9Ti
5) Flange standard and specifications: supplied by customer
6) Electric Heating: thermal belt
7) Electric Heating power: 220VAC or 24VAC
8) Electric Heating temperature: 50ºC~150ºC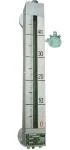 GZS-G high temperature and high pressure level gauge
1) Flange center to center: 300~1000mm
2) Working temperature: ≤450ºC
3) Nominal pressure: ≤10MPa
4) Meter material: high quality carbon steel or 1Cr18Ni9Ti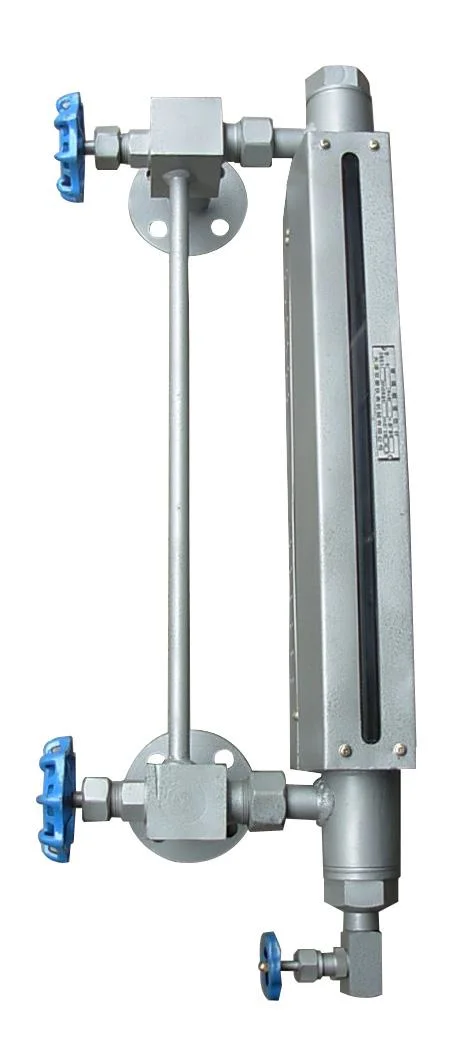 GZS-

X

Bi-color G

lass

T

ube

L

evel

G

auge

with Lamp
1) Measure ranges: 300~2000mm
2) Working temperature: -20~
60
0ºC
3) Nominal pressure: PN0~
10
MPa
4) Meter material: Carbon steel
, SS304
5) Steam Jacket connecting tube: flange DN15 or flange 1/2×1.5