GZS-C series Economic Glass tube Water Level Gauge
1) Measure ranges: 300~5000mm
2) Working temperature: ≤100ºC
3) Nominal pressure: PN0~10Bar
4) Meter material: carbon steel or SS304, SS316
5) flange standard: DIN

,

ANSI

,

JIS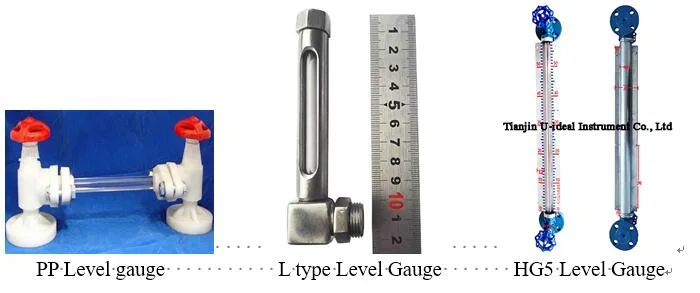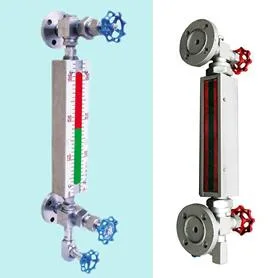 B49H-10G High quality Quartz Glass Tube Water Level Indicator (Double-Color)
Bi-color water gauge consists of upper valve, lower valve, and gauge body, blow off valve, balancing tube and lamp house. The upper valve and lower valve can be fully opened and closed by Hand. Inside the valve body. There is a safety steel ball and safety valve seat. When the quartz glass rube is broken suddenly, the steel ball will remove to the safety valve seat in high speed pushed by high pressure steam to shut off the channel of the gauge automatically until the upper and lower valves is closed by hand. The ball will be reset by the pressure from the balancing tube and by its gravity. Therefore, false water level can be avoided. The gauge is provided with special safeguard, so it is safe and reliable, the gauge body itself is also a very good protection shade.
1) Measure ranges: 300~2000mm
2) Working temperature: -20~450
ºC
, 600
º
C
3) Nominal pressure: PN0~10MPa
4) Meter material: Carbon steel, SS304, SS316
5) Steam Jacket connecting tube: flange DN15 or flange 1/2×1.5
6) Two lamp bulbs assemble to the level gauge. Can add any voltage and any power bulbs.
7) Bi-color display: red for air, green for water level display. (Very clear display)
8) Lighting: Tube 36VDC 200W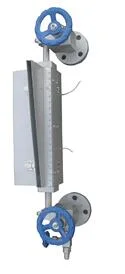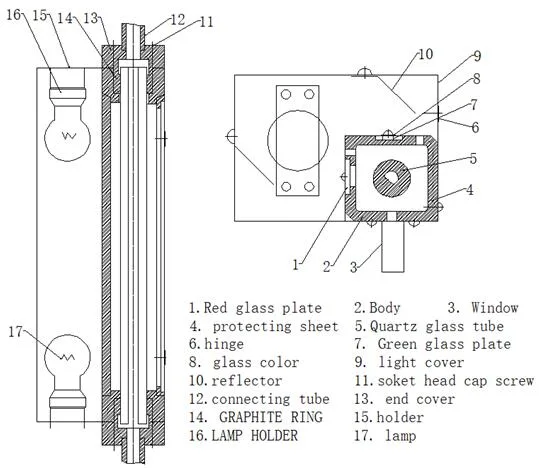 Hebei Xukang Meter Manufacturing Co., Ltd Tianjin U-ideal Instrument Co. produce high quality Quartz glass tubular level gauge. is type of field indicating Level instrument.
The features of mechanics, mechanical, electric and optics of quartz glass tube make it superior to ordinary glass tube liquid level gauge, it has bicolor characteristic and can working at high temperature and high pressure conditions and acid fluid level.
(1) glass tube material: Transparent quartz glass tube, plexi-glass tubular(organic glass tube, plexiglass tube, lucite tube), ordinary glass tube, test pressure is less than 13 MPa.
(2) Gauge Material: A3 carbon steel or 1Cr18Ni9Ti SS304, SS316, PVC, PTFE lining
(3) Measure range: 300~3000mm, blind less type (visible length = C-C length) is acceptable on order.
(4) Fluid working temperature: -20~100 º C, -20º C~180º C, 180º C~450º C
(5) Gauge working pressure: <0.6MPa, ≤ 10MPa
(6) Flange: DIN, ANSI, JIS loose flange selectable
Also we can produce according to customer's requirement specially.
(7) Sight glass tubular level gauge with bottom water drain valve
(8) LED lighting (illumination) or electric heating function or steam jacket type is selectable on order.
Diameter and connection
4,6,10,15,20,25,32,40 thread connection
(15,20,25,32,40)50,65,80,100,125,150,200 flange connection
Accuracy
±1%R,±0.5%R,±0.2%R(Customer-made)
Range
1:10, 1:15, 1:20
Instrument material
304 Stainless Steel, 316L Stainless Steel, etc
Medium temperature
-20°C--+110°C
Environment condition
Temperature:-10°C--+55°C, Relative humidity: 5%-90%, Atmospheric pressure: 86-106Kpa
Output signal
Sensor: Pulse frequency signal, Low voltage: ≤0.8V,High voltage: ≥8V
Transmitter: Two-wire 4-20mA current signal
Power supply
Sensor: +12VDC,+24VDC(optional)
Transmitter: +24VDC
Site display type: instrument with 3.2V lithium battery
Signal transmission wire
STVPV3×0.3 ( three-wire), 2×0.3 (two-wire)
Transmission distance
≤1000m
Signal wire interface
Basic type: Hausmann interface, Explosion proof: Internal thread M20*1.5
Explosion class
Basic type: Non-explosion proof product, Explosion proof: ExdllBT6
Protection degree
IP65