Vacorda magnetic float liquid level gauge ball water level gauge

Product Description
Magnetic ball water level gauge by flotage consists of reed, precise resistance and amplification transformation circuit and adopt imported advanced sensor components and signal transmitters. When the magnetic line of the magnetic float ball reaches a certain place of the level sensor, the reed closes, and the float ball changes with the height of level interface. The amplification transformation circuit converts the change of the interface height into linear 4~20mADC signal to realize the measurement and transmission of the level location signal.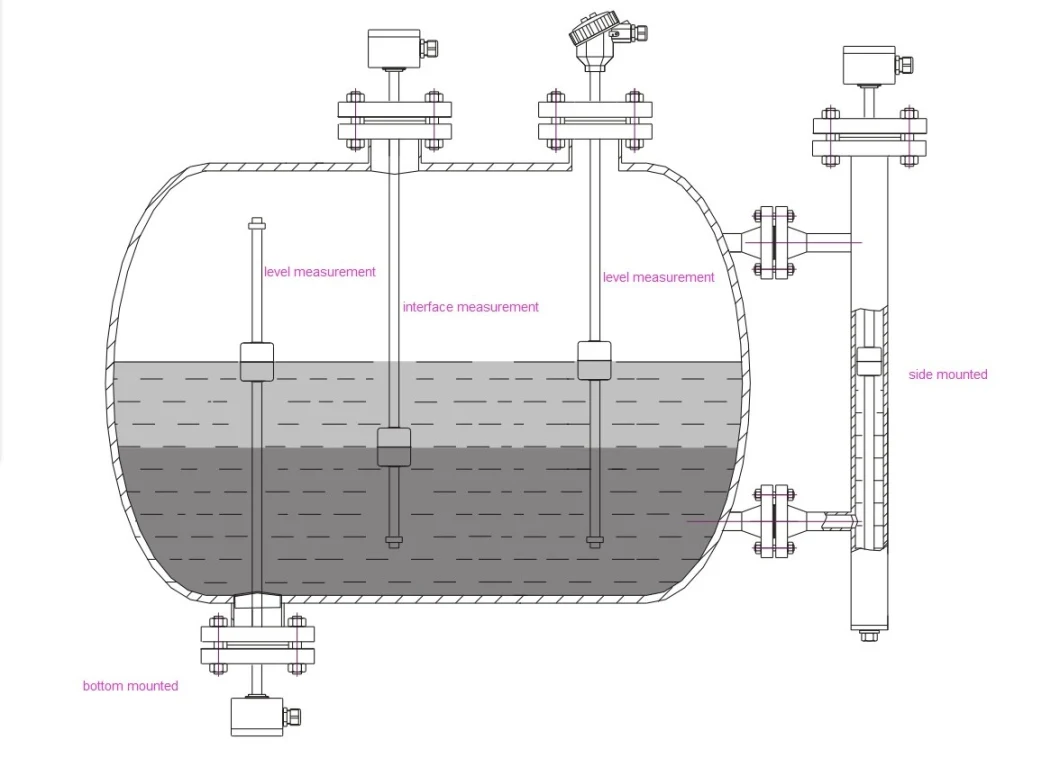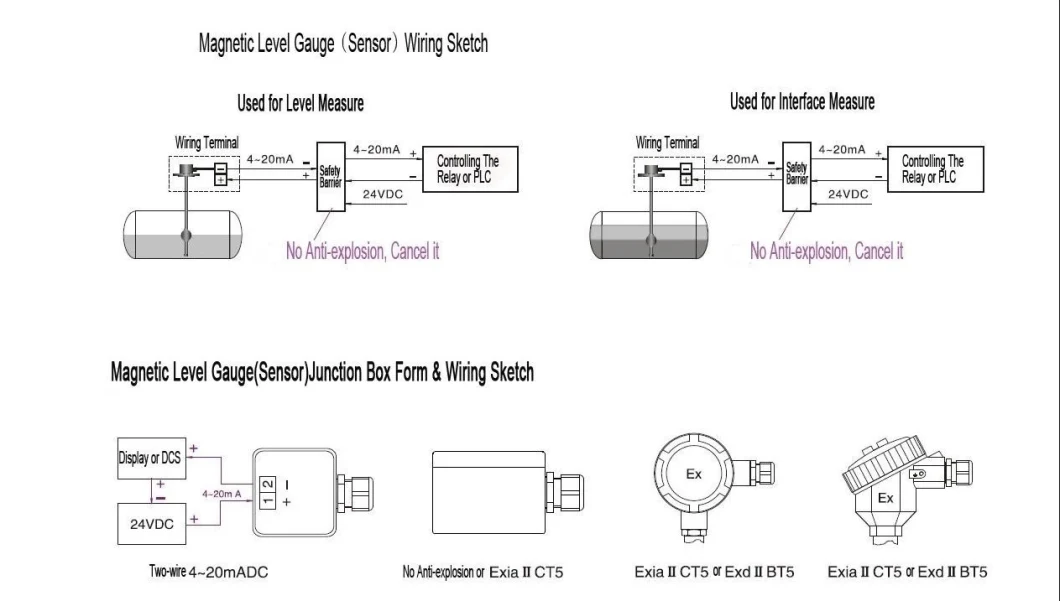 Product features
1. Simple structure, good stability and reliability.
2. Independent of medium's physical and chemical states such as conductivity, dielectric constants, foam etc.
3. Appliable for all kinds of medium environment such as corrosive, toxic and explosive one.
4. Interface measurement or level measurement of 2 kinds of medium with different density.
5. Two-wire 4~20mADC signal output, 0.8'' or 0.56" LED digital display.
6.Explosion-proof structure design for exploding environment

Product Parameters
Measuring range
200~6000mm(>6M customize)
Resolution factor
10mm,5mm,20mm
singal output

4~20mA(two-line)

2000/m(1/2",3/8")

Loading resistance
500Ω
Transmitting
>1000m
Working power supply
16~30VDC
Density
≥0.5g/cm3
Pressure
PN2.5~PN160(×0.1MPa)(Max pressure PN320)
Operating temperature
-40 ~ 80 °C, ≤120 °C, ≤150 °C
Float ball diameter
Φ30~Φ120(depending on pressure and density)
Flange installation
DN40~DN150/RF/PL(HG/T20592~2009) customize

2'' thread(downward install)

1/2'' thread (upward install, resistance signaloutput)

3/8'' thread(upward install, resistance signal output)

Installation angle
≤±25°
Electrical connection

M20×1.5 female thread

Three-lines screening cable

IP grade
IP65
Explosion-proof grade
Exia II CT6Ga,EXd IICT6Gb
Product show and Installation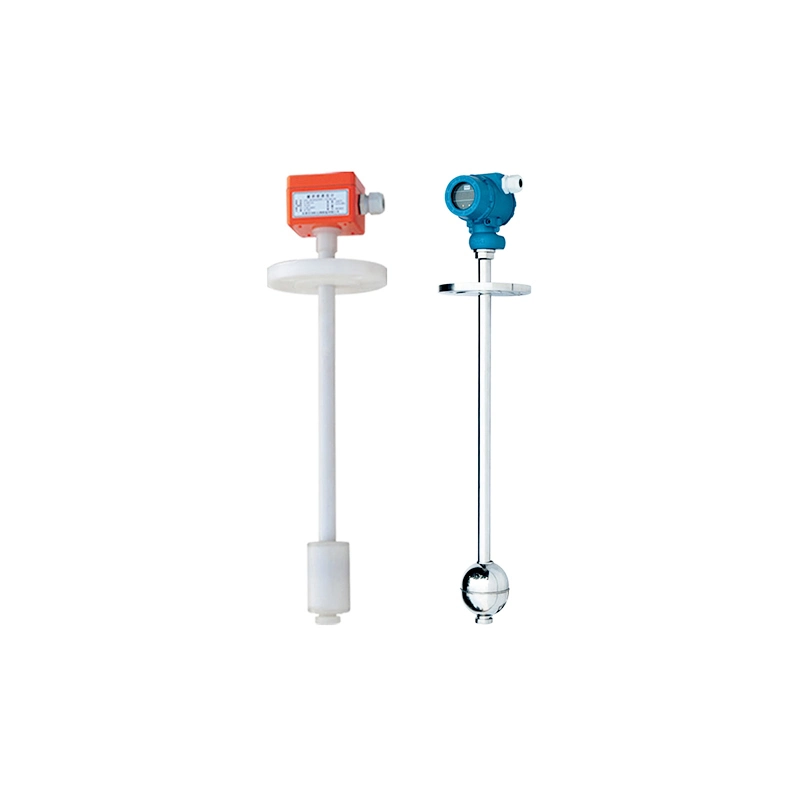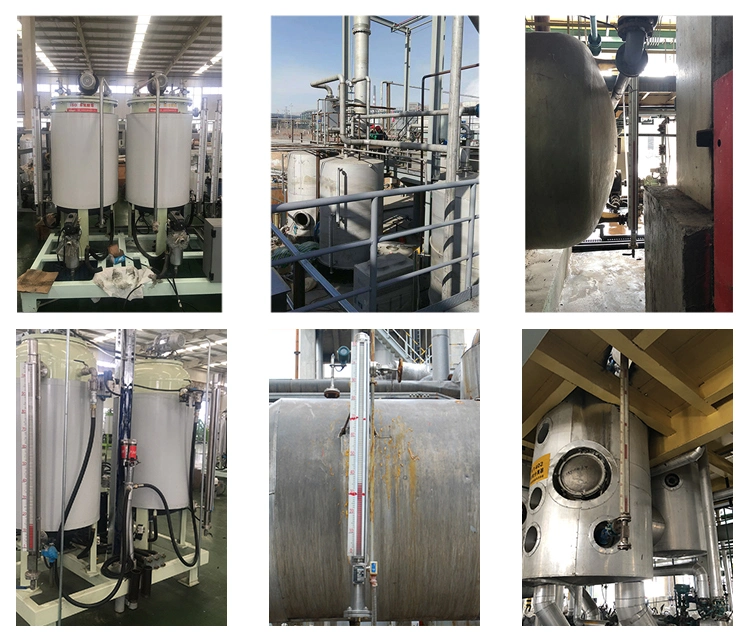 Product Parameters
(1)

Center-center distance:

150~6000mm

(2)

Medium density:

More than

0.45g/cm3

(3)

Nominal pressure:

PN6

~PN320(x 0.1MPa)

(4)

Material:

304, 316L or customized

(5)

Operating temperature:

-190 ~ +425 °C

(6)

Process connection:

DN20/RF/14(or

customized)

(7)

Indicator types:

A: Al &ABS flap cylinder

B: Al flap plate

C: PVC ABS flap cylinder

D: PP&ABS flap cylinder

E: AL &LED

F: PP&LED

(8)

Structure of top chamber:

1.Welding cover




2.welding cover with M14*1.5 plug screw




3.flange




4.flange with M14*1.5 plug screw




5.welding cover with DN20 flange




6.flange with DN20 flange




7.welding cover with air valve




8.flange with air valve

(9)

Structure of bottom chamber:

1.flange cover




2.flange with drain plug screw




3.flange with DN20 welding tube




4.with DN20 flange




5.with needle/ball valve

(10)

Protection class:

IP65
Company Information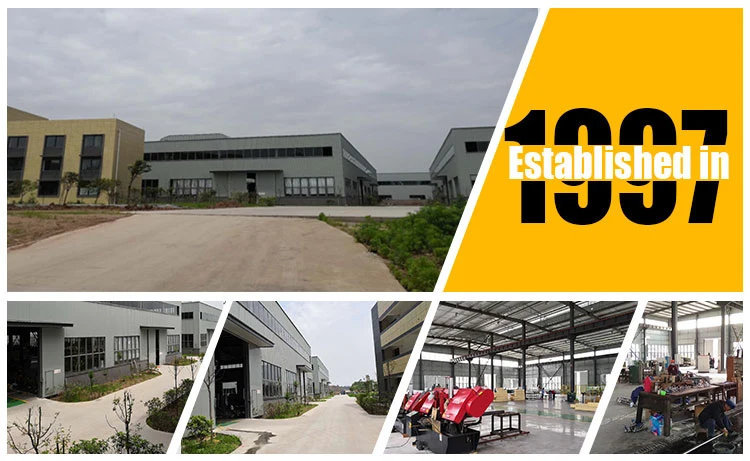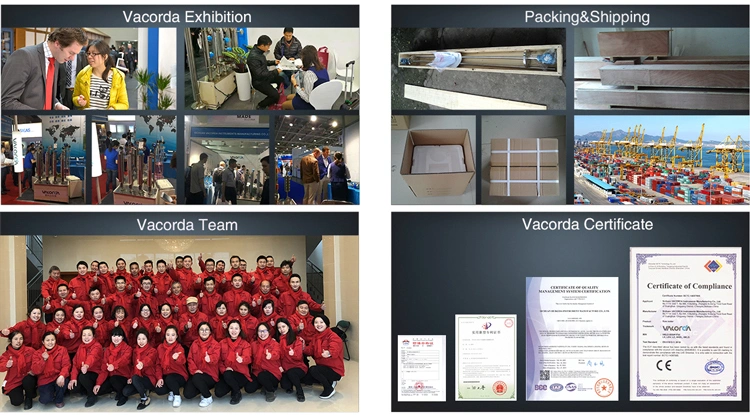 Sichuan VACORDA Instruments Manufacturing Co., Ltd. is a professional production-manufacturing enterprise specialized in designing, producing and marketing of instruments and apparatuses. Our company has been established for 21 years since 1997 to grow up to be a team of high-quality, united, hard-working and truth-seeking characters. Solid foundation has been established.
Product packaging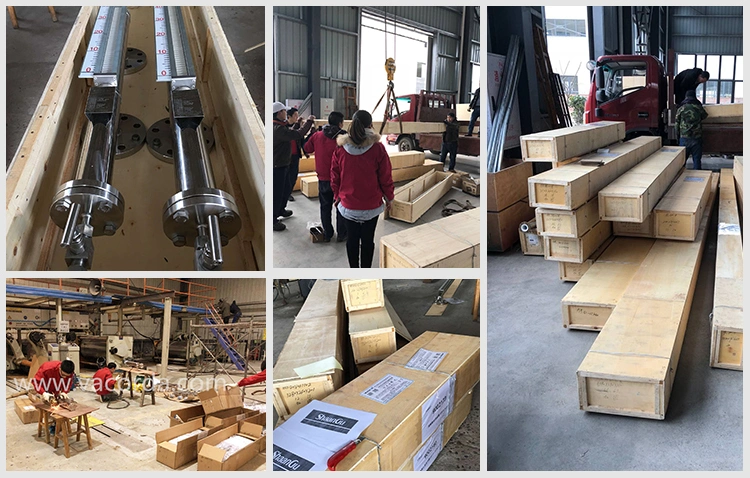 contact us