R
ange of application
S
erious
Glass Sheet
L
evel
G
auge is a kind of sight glass level gauge which can show the liquid level directly. Th
ese type level gauges
are
widely used in chemical industries
and
petroleum
field.
1.Technique Parameters:
Glass type

borosilicate glass, mica glass/Al-Si glass

Gasket material

graphite gasket, mica gasket

Pressure for steel ball shut off automatically

More than 0.2Mpa

Steam pressure less than 0.6Mpa

Steam sheath joint: G1/2

″

male thread




Measure range

300~2200mm; Customize other range




Working temperature

20~280

º

C(borosilicate glass);


-20~500

º

C (Al-SI glass/mica glass)




Working pressure

0.6MPa, 2.5Mpa, 4.0MPa, 6.3MPa, 16MPa,32MPa

Meter material

carbon steel, SS304 or SS316

Transmit color

nature color, or bi-color type(green for liquid, red for air)

Ordinary globe valve or 1/4 opens or close valve

Lamp lighting

fluorescent lamp power supply AC36V

Glass size

80mm, 115mm, 140mm, 165mm, 190mm, 218mm, 260mm, 280mm, 290mm, 320mm, 340mm;

Connection center to center adjustable

distance

±

5

mm
2.Model selection
When open the packing, firstly check the substance, and tight the bolt again. And then according to the picture equip with the accessories.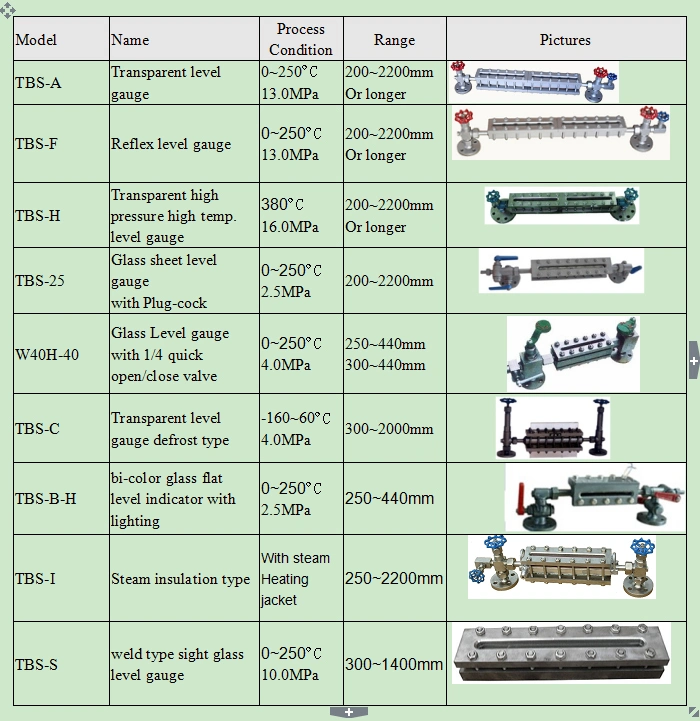 3.
Installation
If the meter without light equipment, it can be installed at the light bright place.

The flange and the sealing face can't be damaged for contaminated.

If the measure range is very wide and must use serious meter to measure, their installing place should be separated without blind zone.

When use the level gauge, water pressure should be check firstly, and the pressure the meter can bear is no more than 1.5 times of the max

imum

pressure. The test must conform to the pressure vessel safely requirement of the relative department.

When install series TBS meter, the top and bottom needle valves must be closed. When operating, firstly open the top needle valve to its maximum degree and then open the bottom needle valve slowly to lead the fluid into the meter. And then loose the vent valve to vent gas. After vent out the gas then tight the vent valve immediately. When turning the needle valves.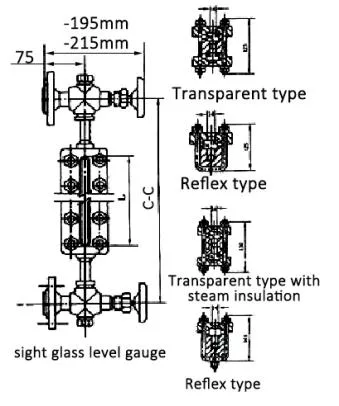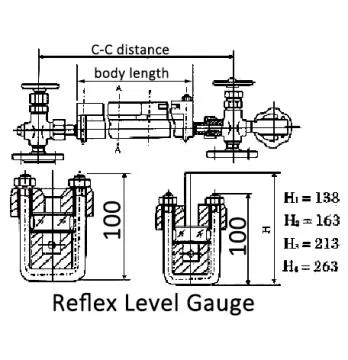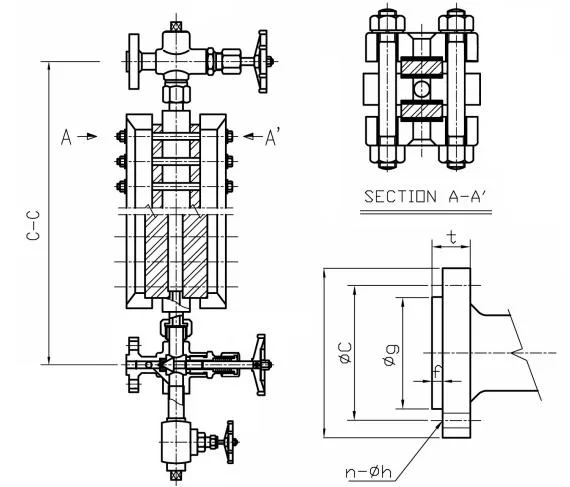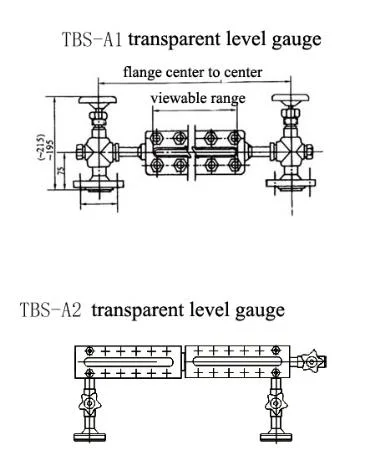 4.

Ordering instructions
Model No. and specifications;

Measuring ranges;

Working pressure and temperature

Material

Whether have special requirements;

Whether need to supply the accessories such as flange, nut, bolt, valves and packing washer