We are manufacture of level gauge, sight glass, flowmeter. we can do OEM, we can assure good quality and fast delivery.
Xukang meter is manufacture of China Industrial magnetic float level sensor, sight glass water level indicator-magnetic floating level meter with level switiches and transmitter- and flow meter and sound water level meter.
level transmitting 4~20mA or hart signal to realize remote control.
Tianjin U-ideal Instrument Co., Ltd produces various level measuring instruments such as magnetic level gauges, glass tubular level gauges, reflex level gauge, transparent level gauge, various level transmitters and level switches.
Magnetic Level Gauge' outstanding features: Bi-color local indicating, remote control, wide working range, Economic price, long service time, and little maintenance.
Magnetic level gauge divided into top mounted and side mounted type.
Level measurement methods
Components: Tube body, floater, installed flanges, indicator panel, and drain and vent valves.
Indicate color: White and Red flag.
Our Bi-color Magnetic Floater Level Indicators have produced more than 20 different type's suit for various application. Such as side mounted, buried tank top mounted, side-top mounted type, thermal type (steam insulating sheath, electric thermal insulation), anticorrosion type fuel level measurement.
Anticorrosion type: Glass fiber reinforced plastic, ABS, UPVC, TA2, PP material selectable.
Technical parameter
1, measure ranges: 20-15000mm
2, measure accuracy: ± 5mm
3, working pressure: 1.0, 1.6, 2.5, 4.0, 6.4, 10.0, 16, 0MPa
4, fluid temperature: -40~450º C
5, fluid viscosity: ≤ 14m/s
6, fluid density: ≥ 0.5g/cm3
7, body or cage material: 1Cr18Ni9Ti, 304SS, 316SS, 301SS, Carbon steel; Floater material: 304SS, 316SS, Titanium
8, flange: Side flange, tank top flange; ANSI, JIS OR DIN form.
9, Transmitter output 4~20mA signal, add level switches (HH, H, L, LL) to realize remote control
If H2SO4 98%, we will supply with PP Polypropylene material magnetic level gauge or SS 201 material level gauge/ PTFE material level gauge according to customers require.
UHc type Side Mounted Bi-color Magnetic Level Gauges-level meter
UHC type Top Mounted Bi-color Magnetic Level Gauges
UHC type Steam Jacket heating Bi-color Magnetic Level Gauges
UHC type anticorrosion type Magnetic Level Gauges
Model selection
UIHC-
C
Side mounted;
D
Top mounted
R1
Standard transmitter 4~20mA current signal (Resolution: 20mm/10mm/5mm);
R2
Standard transmitter 4~20mA and hart; (Resolution: 20mm/10mm/5mm);
R3
Magneticostrictive transmitter 4~20mA with hart
R4
Switch and number;
R5
Both 4~20mA transmitter and switches
R6
No signal output
S
Steam tracing
E
Electric heating
F
Defrost
D
Drain valve , drain plug
DV
Drain valve and Vent valve or plug
N
No valve
A
Ambient temperature (0~40ºC)
M
-20~180ºC
H
High temperature (<400ºC)
L
If easy frozen
S
SS304 or SS316
P
PP (Polypropylene),PVC,PVDF
O
Other
S
Safety environment
E
Explostion-proof ExdII BT4
I
intrinsic safety ExibII CT4
Measure range: mm
Fluid density: g/cm3
working pressure: MPa
UIHC-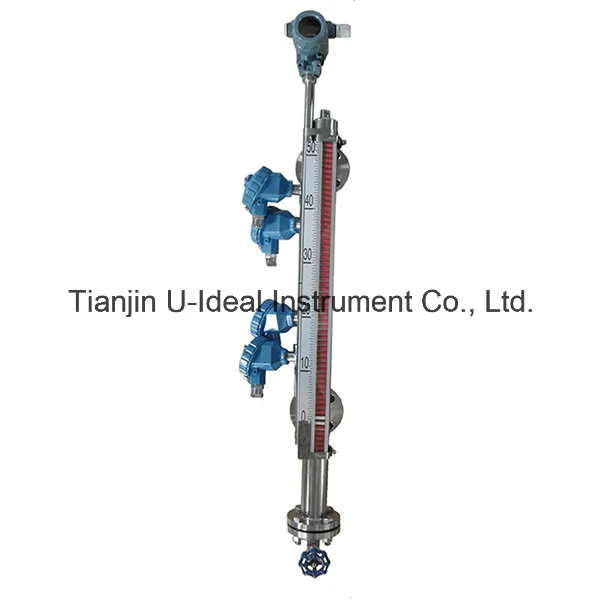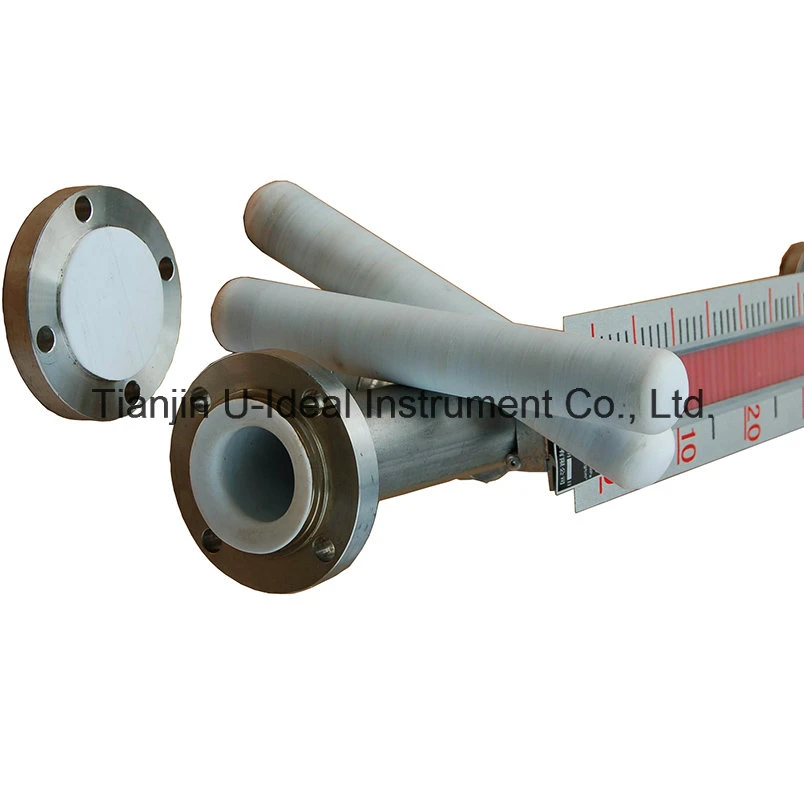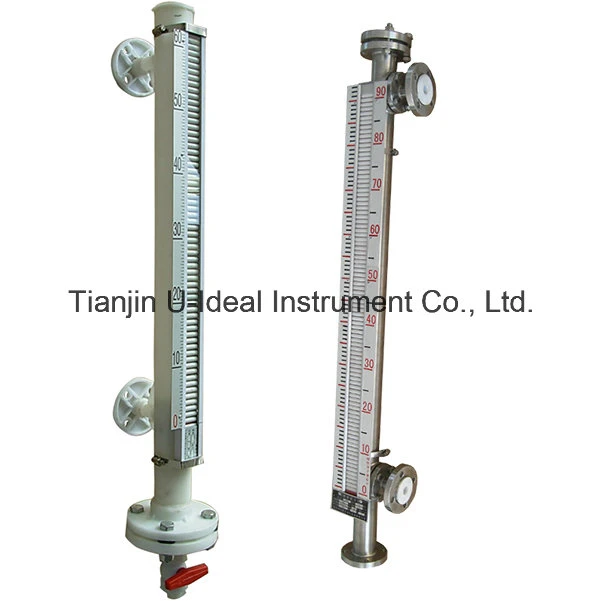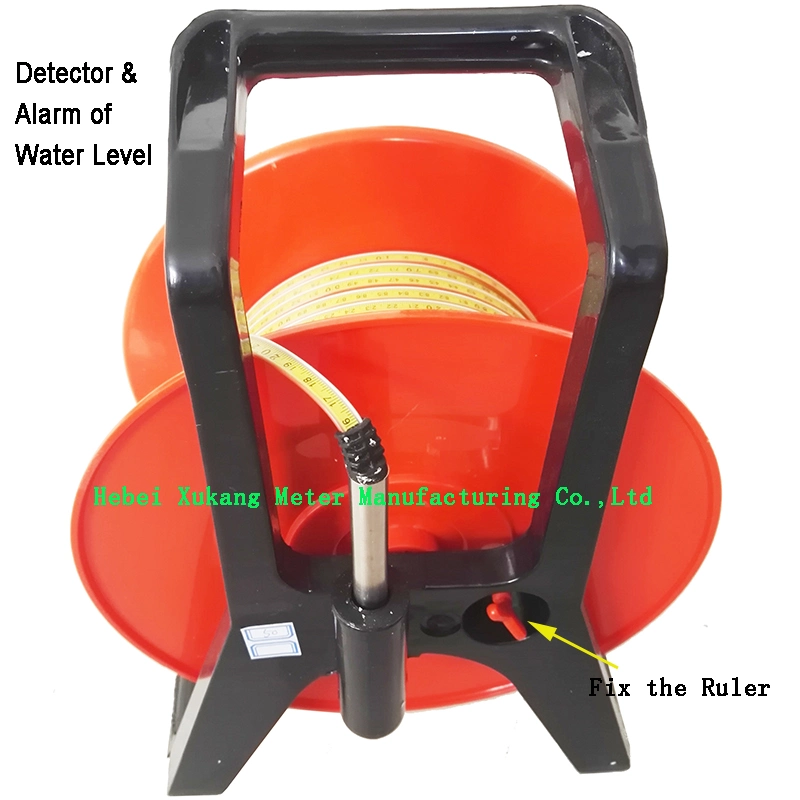 Well Deep level meter Overview
The steel ruler water level gauge provides the most accurate way to measure water levels, used to measure the water level in wells, boreholes and water pipes, particularly suitable for the observation of groundwater level in hydropower projects and artificial inspection of dam body infiltration line. The instrument can be used during construction, but also as a long-term safety monitoring with the project, complies with earth dam safety monitoring technical specifications.
2. Sound water Level Meter Main technical
Specification

30

50

100

150

200

300

500

Measurement dept.

(m)

0~30

0~50

0~100

0~150

0~200

0~300

0~500

Minimum reading

(mm)

1.0

Repetitive reading

(mm)

±2.0

Operating voltage

(V)

DC=9