We produce glass tubular level meter, pipe sight glass and glass plate level gauge for tank or boiler.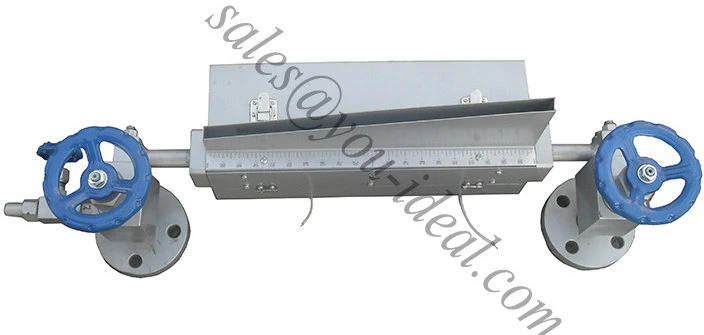 We are one of the repute's manufactures in China, we produce the level gauges and flow meters. Our products are Magnetic level gauges, glass tubular level gauges, glass sheet level gauges(transparent type and reflective type, sight glass level gauges), drop-in type level gauges, capacitive level gauges, level indicator, level transmitter and sensor. Flow meters: Metal rotary flow meters, vortex flow meters and turbine flow meters, electromagnetic flow meters, oval gear wheel flow meters, precession vortex flow meters and roots flow meters.
Range of application
Serious Glass Sheet Level Gauge is a kind of sight glass level gauge which can show the liquid level directly. These type level gauges are widely used in boiler steam water level, tank level in chemical industries or petroleum field etc.
Model selection of Sight Glass Tubular Level Gauge

GZS

Pressure

temperature

Body material

Glass material

C-C distance

Type

C

Natural Color

X

Bi-color Indicator with Lamp

A

Bi-color Indicator without Lamp

Pressure

P1

1.0MPa

P2

2.0MPa

P4

4.0MPa

P6

6.0MPa

P10

10.0MPa

Temperature

T1

<60

ºC

T2

<100

ºC

T3

<180

ºC

T4

<450

ºC

T5

<600

ºC

Body material

CS

Carbon Steel

304

Stainless steel 304

316

Stainless steel 316

PVC

PVC anticorrosive plastic

PP

valve, flange PP anticorrosive plastic

PTFE

Stainless steel lining PTFE

Glass tube material

Ordinary Glass Tube <100

ºC

Transparent Hart PVC anticorrosive plastic tube <60

ºC

Transparent Soft PTFE anticorrosive tube <180

ºC

Quartz glass tube a. <450

ºC; b.<600

ºC

Center to Center Distance

(mm)
Technique Parameters:
Glass type: borosilicate glass/mico/quartz glass tube
Gasket material: graphite gasket
Pressure for steel ball shut off automatically: ≥0.2Mpa
Steam pressure:
≤
0.6Mpa. Steam sheath joint: G1/2″male thread
Measure range: 300~3000mm
Working temperature:-20~450
º
C
Working pressure: 0.6MPa, 2.5Mpa, 4.0MPa, 6.3MPa, 16MPa
Meter material: carbon steel, SS304 or SS316.
Transmit color: nature color, or bi-color type(green for liquid, red for air)
Ordinary globe valve or 1/4 opens or close valve.
Lamp lighting: fluorescent lamp power supply AC36V
Glass sizes: 140mm, 165mm, 190mm, 218mm, 260mm, 280mm, 290mm, 320mm, 340mm;
Connection center to center distance 10mm adjustable